On the night of February 3rd, 2018, the Church of Saint Vladimir the Great of Kiev Equal-to-the-Apostles, was burned after being attacked by radical Ukrainian nationalists.
The Church was attacked because it is part of the legitimate Ukrainian Orthodox Church of the Moscow Patriarchate, and not one of the other two illegitimate so-called "orthodox" churches, not recognized by universal Orthodoxy.
The fire tarnished much of the beautiful wooden church, though firefighters arrived just in time to save the superstructure itself from being completely destroyed.
Here is a report from Vesti news about the situation:
The Union of Orthodox Journalists, an official Ukrainian Church publication, has already reported on how the Lvov Church was previously under blockade by radicals, who finally decided to torch the place of worship.
One can't help but wonder how "Christians", let alone "Orthodox Christians", can contently set fire to a Church, burning holy relics and sacred objects, all while screaming "Glory to Ukraine' and invoking God's blessings on Ukraine. The Archbishop of Lvov and Galicia Filaret has commented that:
It is very strange when Christians express their political positions by setting fire to churches. [Source in Russian]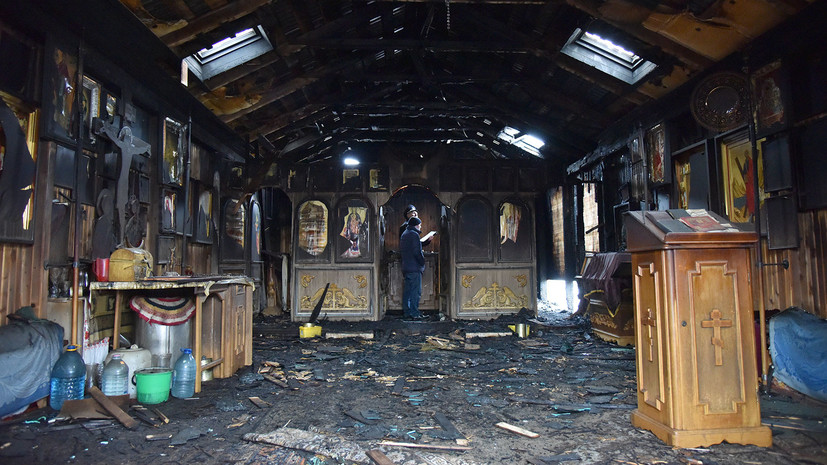 These radicals consider themselves to be Christians, like the majority of the nation. On the one hand, they can go to their heretical churches which have no right to call themselves Orthodox, pray, kiss icons, and then at night burn images of the Mother of God.
We've heard much talk from liberal-spiritual people, about how "we all worship the same God", but that idea is questionable from a theological perspective.
Certainly, Orthodoxy believes only in one God, but the Orthodox understanding of God is significantly different from the Muslim, Jahovas Witness, Jewish, or even some Protestant understandings, that in some ways, it is better to view each entity as separate religions.
That being said, Ukrainians, consider themselves Orthodox, yet they can do this to each other. This is absolutely tragic, and insult to Russia, Ukraine, and to all Orthodox people.
Sadly, this behavior is not uncommon in post-Maidan Ukraine at all. This is the second article we published today on this matter, see here for another similar story, in which the legitimate Church offered to PAY THE BAIL, of the attackers, and appealed to President Trump. This has become common practice, to drive believers from their homes, even if necessary, to burn churches to the ground. The damage done to this Church is actually minor compared to other churches which have been completely raised to the ground, and believers will begin rebuilding.
Additional photos of the damages can be found here. As expected, it didn't take believers long to begin working together to plan for the restoration. Ukrainian Orthodox Christians lived in the land long before Ukrainian radical nationalism, was a concept. The Church was there before the radicals, and as always, she will outlast them completely.
The statements, views and opinions expressed in this column are solely those of the author and do not necessarily represent those of The Duran.