The statements, views and opinions expressed in this column are solely those of the author and do not necessarily represent those of this site. This site does not give financial, investment or medical advice.
'The Operation in Syria – Putin's grandmaster move obliged the world to respect Russia' – This was the title of an interesting article in the Russian language.
Here is a paraphrased translation of how the article began:
One of the most important events of 2016 was the destruction of terrorists in Syria. Russia, at the request of Syrian President Bashar Assad, volunteered to help wend the war, and achieved great results in a short time. But there would not be any positive results, if not for one person – Russian President Vladimir Putin.

The Commander-in-Chief of the Armed Forces of the Russian Federation made a complex, and fateful decision, a call on which the future of the Syrian Republic depended. Now, Syria's people and governemnt have a chance to begin again.
Russia has hardly been seen as a serious power since her fall in the 1990's, but she rose from the ashes of Syria like a phoenix, reminding the world that Russia is still a great power, and proving she will be a pillar of the multipolar world for years to come.
In 2014, President Obama described Russia as :
"a regional power that is threatening some of its immediate neighbors"
Yet two years later, Russia begin the destruction of ISIS which is now effectively complete, beginning her withdraw from Syria, and the whole world from the US, to the EU, to middle eastern countries like NATO-member Turkey understand that Russia is, in fact, a great power.
"Russia is not, as President Obama said, 'a regional power.' This was a big error in assessment," European Commission chief Juncker said.
Russia has shown, that while she does not want to "replace" the US as a superpower, she actually does not believe in a monopolar world where there is one superpower, preferring a multi-polar world similar to the Pre-World War era, where each great power has a sphere of influence that must be respected.
Russia has always been respectful to her western allies, but her actions in Syria have created facts on the ground, requiring those who dismissed her earlier to accept the reality of her position in the world.
The Russian article goes on to talk about how Russia has been given a vital opportunity to test military equipment in Syria, including hundreds of advanced cruise missiles, prior to the use of which, the whole world didn't realize such a capability and tactical employment in the way she did was possible. It is perhaps providential those statements above were made in 2014, because in the years between then and now, not only did Russia save Syria, but Crimea rejoined Russia.
It was like a return to the days of Catherine the Great, when Russia liberated all of what is now Ukraine and Crimea from the last remanent of the Mongol Hordes, the Crimean Tatar Khanate backed by the Ottoman Empire. Check out below the first Russian national anthem to Catherine the Great "Let the Thunder of Victory resound" with english subtitles over footage of Russia's cruise missiles.
The article goes on to discuss how Russia's actions in Syria have begrudgingly earned the respect of local middle eastern leaders like Erdogan, and the Saudi King who made his first official visit to Moscow. Even if they don't personally love Russia, her actions in Syria have created facts on the ground which are impossible to ignore.
The Duran has a great article by Alexander Mercouris using two simple maps to illustrate those facts. Just take a look at Syria before:
And after Russia intervened (February 1st, 2018):
ISIS got their behinds handed to them, courtesy of the Russian bear, and the world has noticed.
The US strategy has been…well…not successful, to put it politely. A US General admitted to the Senate that by 2015, and 500 million dollars later, they had only trained "about 4 or 5" "moderate" fighters against ISIS, as the Washington Post reports.
Ordinary citizens have also noted Russia's success in several tweets:
Putin said Russian servicemembers deserve credit, as they have "demonstrated the strength of our army and navy".
Above all, Putin's work has reaffirmed the eternal friendship between Syrians and Russians. It matters not what the world thinks about Syria. The Syrian people are the only ones whose opinon truly matters on events there, and they love Russia.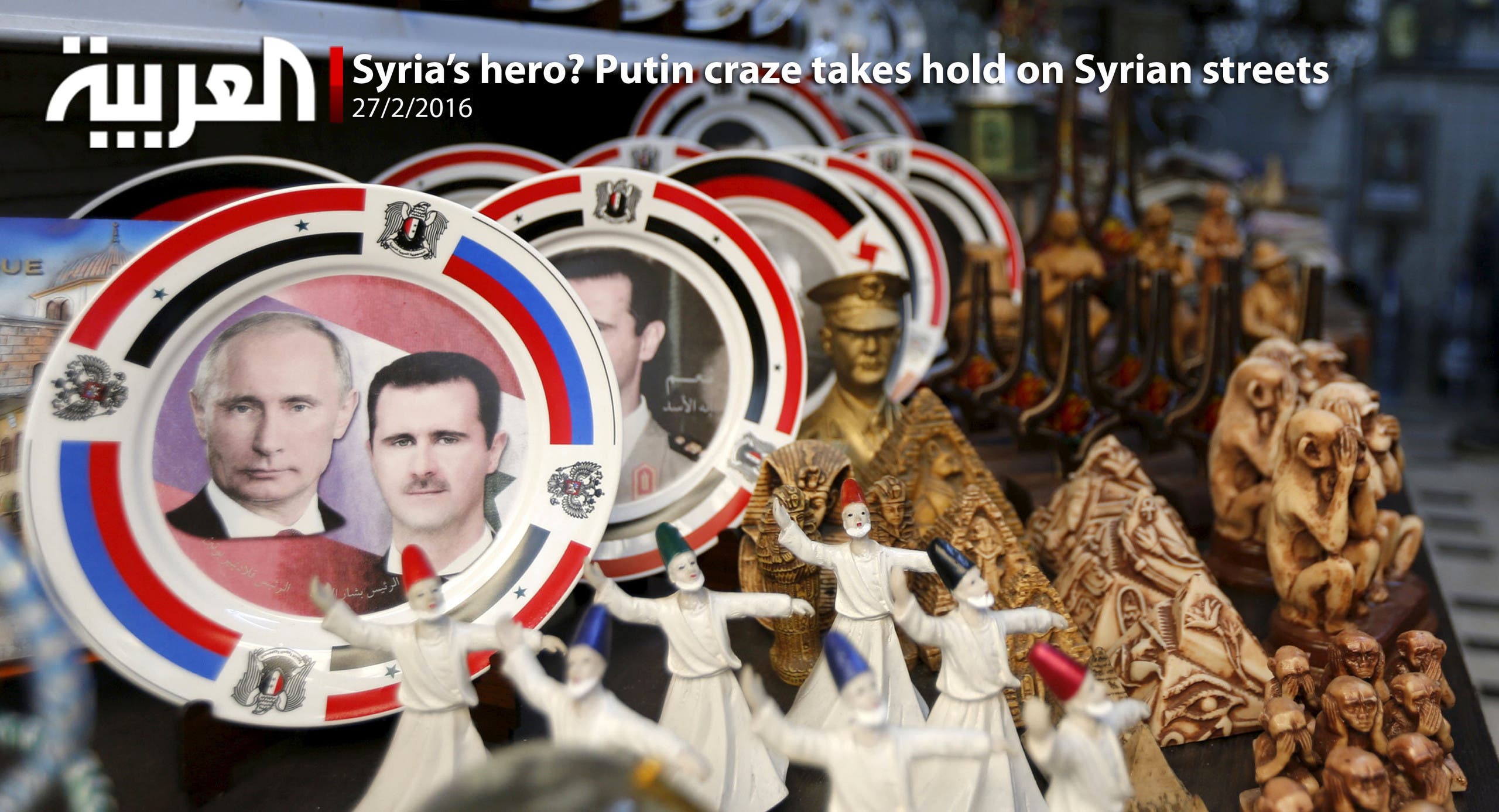 Perhaps the most significant geopolitical reality that has come out of the Syrian conflict, and the Ukrainian one for that matter, is how in some ways, the Deep State's plans backfired miserably.
If western powers wanted to see a diminished role for Russia in the middle east, by funding terrorists in Syria (Russia's middle east ally), then their plans achieved the reverse. Russian-Syrian resolve and cooperation are now stronger than ever before, not to mention other middle eastern powers have accepted Russia's role as an immovable geopolitical reality.
While the war has been disastrous for Syria, and Russians weep with her people, and help defend them and rebuild, from a purely military perspective, the war has strengthened the Russian military by providing them with crucial field testing of the skills they learned in training. Russia will take that crucial training back home, having proven much of her highly touted military might in real warfare.
If certain powers hated Russia so much, that they cynically plunged her brotherly nations like Syria and Ukraine (regarding the people, not the current state) into war, out of fear for her power, then their actions created a self-fulfilling prophecy.
As a result of the western funding of terrorists in Syria, and support for a Nazi coup in Ukraine, Russia effectively gained a more permanent and powerful military presence in Syria (with Damascus's permission) and Crimea returned to Russia.
Russia of course deeply regrets these conflicts, but had the west never started them in the first place, Russia would have largely ignored the idea of an increased military presence in Syria, and certainly, there was no practical thought of Crimea rejoining Russia.
This is perhaps one of the cardinal areas western pundits misunderstand Russia, when they talk about her "behavior" as if the 1156-year-old superpower is a juvenile misbehaving – almost all of Russia's actions have been very moderate, conservative, and most important…reactive!
Russia did not actively seek to fight in Syria, and avoided it for sometime since the war began in 2011, seeing as she believes all states must be left to handle their own affairs without outside interference. Despite the fact that Ukraine and Russia have not merely a shared history, but literally come from the same source, and are intricately a part of each other's civilization to the point where it is not possible to speak of Russian civilization without mention Ukraine, even more so Ukrainian without Russian, Russia did not interfere in Ukraine.
Russia only became involved in the situations in these two states after the Deep State arrayed billions of dollars against the small states with a clear intent to actively harm Russia.
Russia may be an empire, in the sense of it being a powerful super-nation with many different cultures and languages united to one imperial Russian statehood and identity, but she has no interest in "nation building", an arrogant idea that one can create a nation, which takes centuries if not millennia of common cultural development.
Russia does share that common history with Ukraine, as all of their most ancient figures were the same, and they share the same origin myth. They were united as one nation (at times ruled in separate city-states) from 862 to 1362, when they were separated only to be reunited in 1652, and separated again amidst the World Wars of the 20th century, and again in the 1990s.
The Russian Orthodox religion, as well as Christianity, in general, began in Antioch, Syria, where according to the Bible (Acts: 11:26), Christians were first called 'Christians'. Syria was part of the Eastern Roman Empire which introduced Orthodoxy to Rus', when Saint Vladimir was baptized on the shores of Crimea.
Russia shares the most ancient of ties with Syria and Ukraine, dating back to her foundation. She will not interfere in anyone's affairs, but she will not sit by and watch as precious parts of her history are torn asunder. The events in Syria and Ukraine have proven – Russia defends her people.
The statements, views and opinions expressed in this column are solely those of the author and do not necessarily represent those of this site. This site does not give financial, investment or medical advice.