The statements, views and opinions expressed in this column are solely those of the author and do not necessarily represent those of this site. This site does not give financial, investment or medical advice.
Ever heard of urban legends? Of course you have! These are often plausible stories that are humorous, outrageous, macabre or many other things that are alleged to have actually happened but didn't. Many can be traced back decades or even centuries in one form or another. Although they are called urban legends, they can just as easily be suburban or rural. And sometimes they come true. 
One of the most horrific urban legends that did come true is that of the snuff film; this claims that people are actually murdered on film for the gratification of wealthy sadists and that these films are distributed by an underground network. The belief in snuff films goes back over a hundred years, but has anyone ever seen one? Sadly, yes. Killer couple Leonard Lake and Charles Ng murdered at least 11 people, filming the torture and even the murders of some of their victims for their own sick gratification. Lake committed suicide in 1985 but Ng is still on death row in California, although it remains to be seen if he will ever be executed. Sadly, these two monsters were far from unique.
Urban legends are part of our folklore, and one of the world's leading folklorists is the man who has done more to research, analyse and popularise those that are partially true, come true, or are total fiction That man is Jan Harold Brunvand. On March 23, he celebrated his ninetieth birthday along with his wife of 66 years, who is also a retired academic. The other woman in the photograph below is his daughter Amy.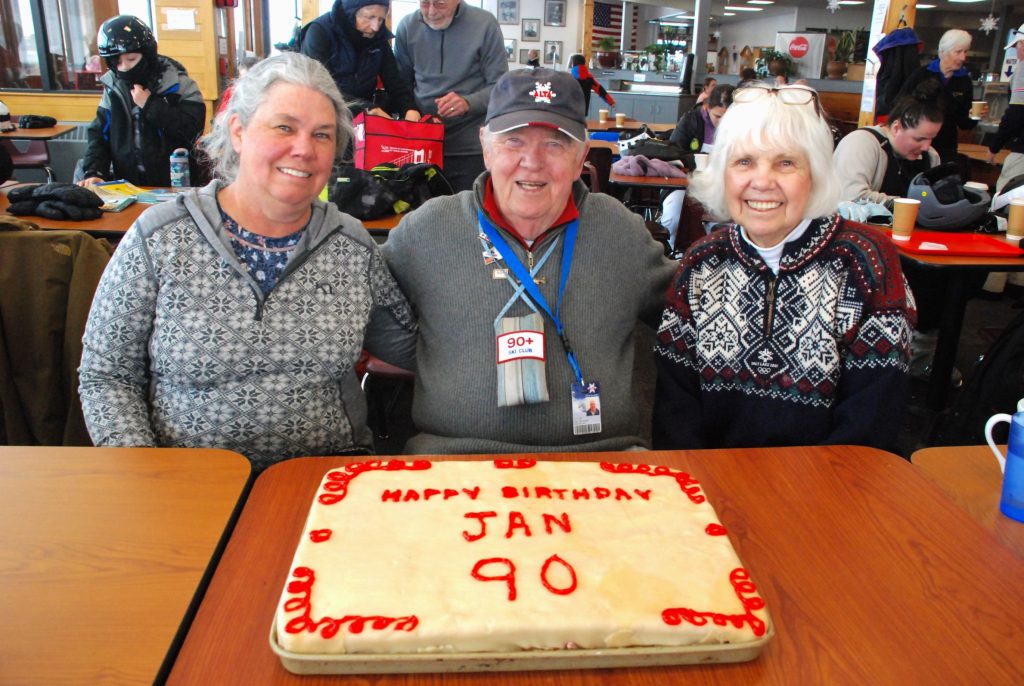 Brunvand is a rare name in America but there appear to be a lot of them in the academic world. Amy works for the University of Utah and his son Erik is on the Faculty of Computer Science. Professor Brunvand's younger brother Tor died in June last year, but hopefully the man himself will be with us for many years to come, he is certainly keeping active in his retirement enjoying the outdoor life in Utah, especially on the ski slopes.
This linked photograph was taken March 28; it shows Professor Brunvand with his granddaughter Rosalie on the slopes. Where else? Rosalie is the youngest daughter of Amy Brunvand – pictured above. He has two other daughters – Dana and Karen, six grandkids and two great-grandchildren.
A native of Michigan where he first attended university, he is the son of Norwegian immigrants. Later, he studied in his ancestral homeland on a Fulbright Scholarship to the University of Oslo. On his return he did graduate work at Indiana University. 
His first major work was a dictionary in a related field which was published by Indiana University Press, but the first book which made his name known to the wider public was THE VANISHING HITCHHIKER: American Urban Legends And Their Meanings which was first published in 1981. There followed in quick succession The Choking Doberman (arguably the most influential) and The Mexican Pet. Unsurprisingly he has also edited the encyclopedia of American Folklore.
Now a professor emeritus at the University of Utah, he has allowed his personal website to lapse, but the archived version can be found here. Not that his interest in urban legends has lapsed. Rightly or wrongly, some academics have the reputation of being stuffy, unapproachable or talking in jargon, but the good professor is the sort of down to Earth guy anyone can talk to in a bar, or more often on the ski slopes. Also, unlike many academics, his work has influenced the real world enormously and in a good way. Currently, the Internet Movie Database has over fifty titles in which the phrase "urban legend" appears. How many of those would have been made but for Professor Brunvand?
He has also weaned some impressive students. One of the best books on this subject by a different author is I HEARD IT THROUGH THE GRAPEVINE: Rumor in African-American Culture by Patricia A. Turner who in 1994 was Associate Professor of African-American and African Studies at the University of California, Davis. Some of the urban legends described in this book are hilarious, but what of Professor Brunvand's books? Well, he says of the vanishing hitchhiker, the legend was "known by the turn of the century" – that's the turn of the Twentieth Century, of course and "acquired the newer automobile motif by the period of the Great Depression". On page 33 of this book he gives a variation on this automobile legend from Korea.
Candice Night was ten years old in 1981, but this classic Blackmore's Night song is clearly based on a variant of the legend. The choking Doberman appears to be a much more recent legend, but a Welsh version – with a different breed of dog – can be traced to 1800. It might be argued that the Welsh legend of Gelert is a version of the choking Doberman, a story that goes back to the Thirteenth Century. 
The story of the Mexican pet is a lot less sinister; it is about a woman who mistakes a large rat for a stray dog and takes it home with her. Professor Brunvand calls this a modern urban legend, but of course there have been cases in the past of people selling pets that were not what they appeared. The well-known phrase "letting the cat out of the bag" is believed to have originated from a Medieval scam, swapping a cat for a piglet.
He has published a number of works since, including popular books, which can be found on the Amazon websites, UK as well as US.
Will he publish any more? Well, an autobiography might not be amiss, but he has a lot on his plate between the ski slopes, fishing, and of course spending time with family and friends. Many of his papers have been donated to institutions. Perhaps at some point they will be scanned and put on-line for the entire world to share?
You can read my 2013 interview with Professor Brunvand here.
The statements, views and opinions expressed in this column are solely those of the author and do not necessarily represent those of this site. This site does not give financial, investment or medical advice.